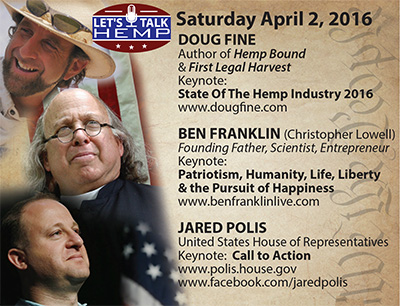 Are you ready for the largest hemp event in North America?
Opening Ceremonies begin Friday, April 1st at 10 AM at The Ranch Events Complex in Loveland, CO. The NoCo Hemp Expo, now in its third year, is the place to be for all things hemp. Colorado Hemp Company is honored to bring together the most experienced thought leaders from around the globe.
On April 2, stop by the Colorado Hemp Company Booth from 2-3 PM for your very own hemp-printed Declaration of Independence or pocket Constitution and have it autographed by our special guest Ben Franklin, Christopher Lowell. Visit the Let's Talk Hemp Stage as he shares his knowledge of hemp in the U.S from the perspective of one of our nation's brightest inventors and leaders.
Read More